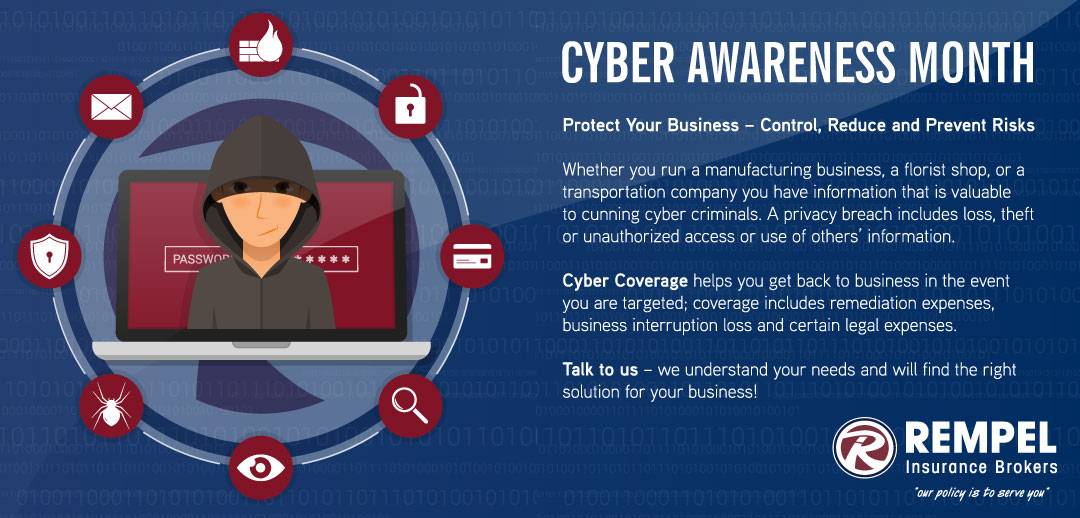 October is Cyber Awareness Month
Protect Your Business – Control, Reduce and Prevent Risks
Whether you run a manufacturing business, a florist shop, or a transportation company you have information that is valuable to cunning cyber criminals. A privacy breach includes loss, theft or unauthorized access or use of others' information.
Cyber Coverage helps you get back to business in the event you are targeted; coverage includes remediation expenses, business interruption loss and certain legal expenses.
Talk to us – we understand your needs and will find the right solution for your business!
Protect Yourself
Identity theft coverage, available through your home insurance, protects you against the cost associated with Identify Fraud and expenses incurred in reclaiming your identity.
What is Identity theft?
When someone uses your personal information, like your credit card, or name without your knowledge or consent, to commit fraud. Some common ID theft scams include purchases on a stolen credit or debit card and creating fake lines of credit.
Your identity is at risk is at risk anytime you give your personal information to another, such as when you make a credit card purchase online or click and email link that look legitimate. Protect yourself.
For tips to protect yourself visit https://www.getcybersafe.gc.ca/cnt/prtct-yrslf/prtctn-dntty/index-en.aspx