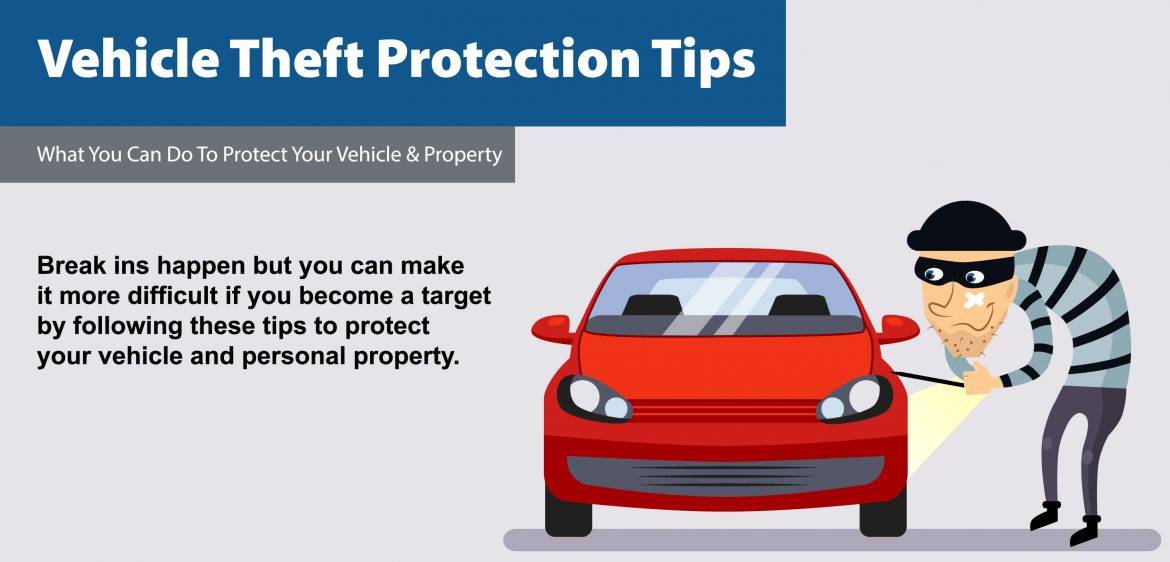 What You Can Do To Protect Your Vehicle & Property

Break ins happen but you can make it more difficult if you become a target by following these tips to protect your vehicle and personal property.
PROTECT YOUR VEHICLE & PROPERTY
Lock your vehicle.
Park in a well-lit area.
Install motion sensor lighting around your home and/or garage.
Park in the garage; lock the garage and vehicle.
Put valuables such as a GPS or other electronic accessories away or take them out of the car, including any holders or mounts.
Put your garage door opener in the glove box, hide it, or take it with you. Thieves can use this and the address on your vehicle registration to break into your home.
Use an anti-theft device. Anti-theft devices include the Immobilizer, Car Alarm or Steering Wheel Club.
Remove or disconnect the battery in your vehicle if you will be parking it for prolonged periods (i.e. Travelers and Snowbirds).
INSURANCE/CLAIMS PROCESS
Call MPI at 1-800-665-2410 to report theft, attempted theft or vandalism.
Ensure you have the $200 or $100 deductible option on your MPI policy; if your policy indicates one of these deductibles you will NOT pay a deductible in the event of theft, attempted theft or vandalism.
Personal property that is not affixed to the vehicle is not covered by MPI. Loss of personal property would be claimable under your home, condominium or tenant policy. Consider scheduling more valuable or targeted property, such as lap tops, onto your policy.