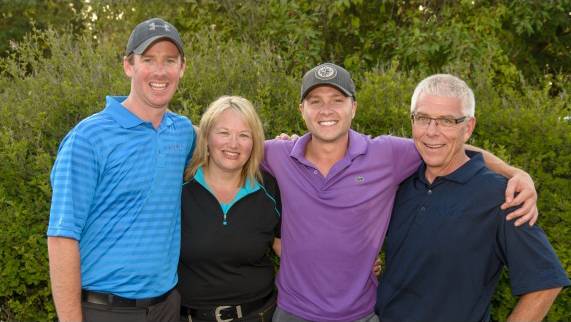 It was a way to introduce a lasting legacy for a top business leader in southern Manitoba. The Young Broker Network and Insurance Brokers Association of Manitoba held the first annual golf tournament for Cancer Care Manitoba, in honour of the late Dale Rempel. Rempel started Rempel Insurance Brokers in Morris in 1990 and passed away last fall after a long battle with brain cancer. Dave Schioler is the CEO of the Insurance Brokers Association of Manitoba, although it was a hot day he says Wednesday's event was a great success. He adds one hundred-sixty eight golfers registered for the event and explains eventually it became so popular they had to cut off entries.
Schioler describes Rempel as an industry leader, ending his tenure serving as President of the Insurance Brokers Association of Canada. The organization encompasses eleven associations across the country and acts in the interests of over thirty-six thousand insurance brokers. Rempel also served as President of the Insurance Brokers Association of Manitoba. Schioler adds Rempel was a great guy. "He was a leader, he was an inspiration, he was a friend." He goes on to say that throughout his struggles with cancer, Rempel was brave and showed leadership throughout this course of his life. "His legacy is going to be many faceted, but (the golf tournament) is the least we could do to pay tribute to him and have some longevity to it."
As the organizing committee came together to plan the tournament, Schioler explains they just decided to combine two previous golf tournaments. IBAM used to hold an event held each June for member associations, supporters and others who joined the fray. In late August or early September there was a Young Brokers tournament and Schioler explains Rempel was instrumental in founding the Young Brokers movement. "Showing them that it's a good industry and that you can have a good career in it."
Meanwhile, Schioler says Wednesday's tournament was an emotional one but was a celebration as well. A cheque was presented to Cancer Care Manitoba during a reception that evening where Annitta Stenning, Executive Director of the Cancer Care Manitoba Foundation also shared her memories of Rempel. "She knew Dale personally." "We presented her with a blanket which is our trademark really. It's all about comfort and security." Dale's wife Lynn also spoke at the event. Schioler goes on to say that the golf tournament will continue to be a celebration over the years.